Hey Curlies,

I love wearing twistouts, and I want to share with you all exactly how I achieve a great twistout that lasts for up to five days.

This post has been updated since it was originally written, but over my eight-year experience of natural hair, I've learned a few tricks along the way.
Here are a few tips you need to consider to achieve your best twistout yet:

What's the look?
First, you need to decide which sort of look you are going for. If you want a very defined twistout, style on damp hair. If you want a big twistout with lots of volume, start on stretched hair. Here and here are a few of the ways I stretch my curly hair.
Learn the real star of the show
Sure products are the star of the show, but the executive producer (you know the one who is really running the show), is the detangling process. You must thoroughly detangle your hair for a great twistout. Learn more about detangling tools here.

I recommend using a wide-toothed comb or a Denman brush.
Pick the right size
Try creating your twists about medium sized. I notice that large, chunky twists do not produce twistouts that last very long.
Your sections should be about 1-1.5 inch in diameter.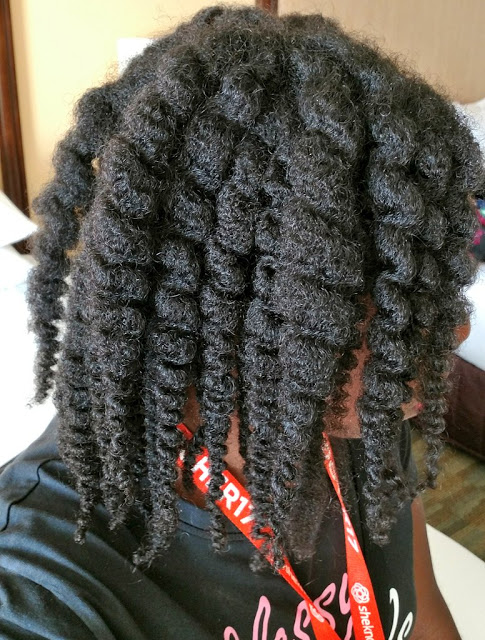 Allow them to set
Keep your twists in for at least 2 days, which allow them to set. The longer you keep them in, the better twistout results you should experience.
If for some reason you are wearing mini twists and want to wear a gorgeous twistout soon, simply tie a scarf down on them and use this method to keep them stretched.
No fluffing
Carefully untwist your two strand twists WITHOUT fluffing and separating your pieces. Once you untwist, just leave it alone. Do not do any extra styling. Over time, the sections will swell and separate on their own.
SIGN UP for the ClassyCurlies' mailing list to unlock your free 8-page ebook on healthy hair rinses.
Sign up for the ClassyCurlies Mailing List