Hey Curlies,
Sometimes you're looking for a little fancier of a hairstyle. Maybe you want your style to reflect your mood or the occasion. Either way, this week's Classy Style of the Week will do the trick.
I first created this mohawk style for a photo shoot promoting Crowned & Curly back in May. I needed something that was quick but timeless.
Believe it or not, this style took less than 10 minutes to do on blown out hair.
What you need to get started
6-8 bobby pins
3 ponytail holders
Styling cream (optional)
Styling gel (optional) – Check out my flaxseed gel tutorial HERE.
Comb
Here's how it's done
Using a comb, create two horizontal parts leaving you with three equal sections (front, middle, back). You should have one part connecting the top of your ears, and another connecting the middle of your ears.
Smooth each section into three separate ponytails that align in the middle of your head.
Starting with the back section, split the ponytail into two smaller sections (a top and bottom). Tuck and roll the top section of the ponytail forward and pin to your head. Repeat the same with the bottom section, but tuck and roll downward. Each section should roll in opposite directions.
Complete the last steps on the two remaining ponytails (middle and front).
Want more styles? See last week's style or the ClassyCurlies YouTube channel.
SIGN UP for the ClassyCurlies' mailing list to unlock your free 8-page ebook on healthy hair rinses.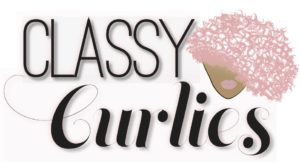 Sign up for the ClassyCurlies Mailing List