Hey Curlies,
For this week's Classy Style of the Week post, I wanted to drop a super simple protective style that most curly girls will find pretty easy.
This twisted high bun is great for those with little time on their hands, or for those who maybe…just don't feel like it. Although it only takes minutes, you'll still end up with a classic style.
What you'll need to achieve this style:
Your favorite creamy styler – I like Honey Baby Naturals Honey Shea Smoothie
Gel or edge control – optional
Brush
Headband made for creating puffs – I use an old piece of pantyhose
Decorative hair pins – optional
Bobby pins – I got mine from Target
How it's done:
Apply a generous amount of styler to your hair. Be sure to focus on your edges and ends
Apply gel (optional) to your edges and do a light brush
Bring your hair into a ponytail position and create a puff using your headband
Fan your loose hair out and down to cover the headband
Split the loose hair into to sections
Twist (not two-strand twist) and wrap each section around the base of the headband to create a bun. Secure with bobby pins
Add decorative bobby pins to the base of your bun
Want more styles? See last week's wash n go style or the ClassyCurlies YouTube channel.
SIGN UP for the ClassyCurlies' mailing list to unlock your free 8-page ebook on healthy hair rinses.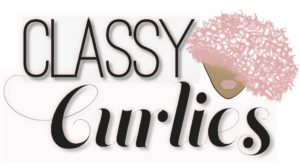 Sign up for the ClassyCurlies Mailing List