Hey Curlies,
I'd like to introduce you all to a new line of products I've been using for the past two weeks. I'm all about supporting small, local and grassroots businesses and Bask & Bloom Essentials, LLC is just that. Headed by Candera, the brand was previously called L.A.C.E (Ladies Always Create Excitement) but as of October the brand has changed its name and added in a few more high-quality products.
Before I start, I'd like to say I was not paid to conduct this review, but I was given the products for free due to my previous relationship with the brand and I chose to do a review because it's one I truly believe in.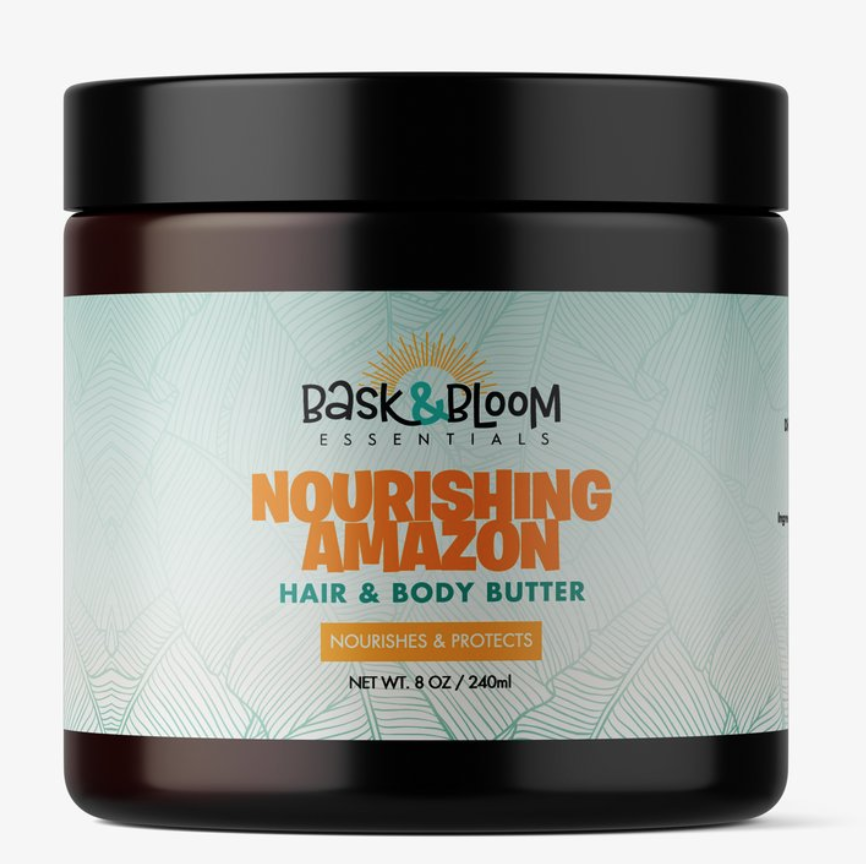 I received four Bask & Bloom products:
More Moisture Cream
Nourishing Amazon Hair & Body Butter
Gentle Herbal Cleanser
Conditioning Hair Tonic
I wanted to use the products on my hair at least twice before I gave you all my honest review. I'll start product by product…
More Moisture Cream
This is probably one of my favorites of the entire line. I love that this product can be used as a a leave-in conditioner or a styler. The best part…it smells so good! It's a light a fluffy texture that did not weigh my hair down but gave it enough kick to stay moisturized. I also learned I only need to use a small amount of make a difference in my hair. Awesome product!
Nourishing Amazon Hair & Body Butter
I actually just began using this product last week as a body moisturizer after my showers and wonder why it took me so long to use it! I normally use coconut oil as a moisturizer after my shower but after opening the butter's jar just to take a look at it, the amazing smell made me curious. It smells so good…seriously! It was very moisturizing and a thick consistency (just like a butter) and very good for the winter months.
The only thing I wish I had was more…my jar so was small. (haha) Just means I'll have to buy a bigger jar.
Gentle Herbal Cleanser
I liked that this shampoo contain great ingredients like Rhassoul Clay, Yarrow Root, Nettle Leaf Extract, Coconut Oil and Avocado Oil. I massaged my scalp with my finger tips and lightly scrubbed with my shampoo brush just once and my scalp was clean. This product didn't have any specific great smells to it, but it worked!
Conditioning Hair Tonic
I'm actually still working on this one. I used this product along with the More Moisture Cream before styling and the two work really well together. Give me a little more time and I'm sure I'll have more to say on this one!
Overall, ingredients matter and this line makes high-quality ingredients a priority and that's something I appreciate. I get tired, and I'm sure you do too, of products made with "fillers" and shear butter or coconut oil as the last ingredient. Bask & Bloom doesn't use any synthetic fragrances and their products are free from parabens, sulfates, petrolatum, formaldehyde and mineral oil.
Want to try these or other products yourself, here's your discount code to use until BASK15 for 15 % off until this Saturday (Nov. 14).
Sign up for the ClassyCurlies Mailing List