Hey Curlies,
I always say this, but deep conditioning is the key to growing natural hair and retaining length. Over the years, I've tried so many deep conditioners made for curly hair but not every brand makes the cut when it comes to my favorite.
They have to smell great, have high-quality ingredients and leave my hair feeling moisturized.
SIGN UP  for the ClassyCurlies' mailing list to unlock our free 8-page ebook on healthy hair rinses.
Here are a handful of my top deep conditioners for natural hair: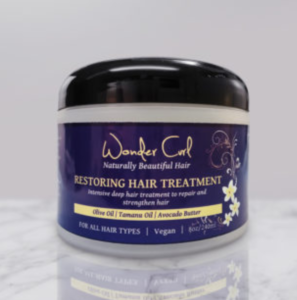 WonderCurl's Restoring Hair Treatment
I've been using WonderCurl products for more than five years, but just this year I began using their Restoring Hair Treatment and fell in love.
It's awesome for those with kinky, tightly-packed curls like mine. It's super thick with a whipped consistency and is made of Shea butter, avocado butter, olive oil, B-vitamins and other great ingredients.
See my wash day with WonderCurl products and shop for your own here:

Bask & Bloom Essentials' Brahmi Root Hair Masque 
Bask & Bloom is also a hair and body care line I've been using for sometime and again, for some reason this year I was just introduced to their Brahmi Root Hair Masque. It smells amazing and has a medium to thick consistency made for all hair types.
It contains ingredients like Brahmi, Burdock Root, Marshmallow Root, Yucca Root, Slippery Elm and Horsetail, Aloe Vera Juice, castor oil, raw honey and more.
See my deep conditioning routine featuring the Brahmi Root Hair Masque:

EDEN BodyWorks JojOba Monoi Deep Conditioner
More than four years ago I stopped at the Eden Bodyworks table at the Taliah Waajid World Natural Hair Expo and discovered EDEN BodyWorks JojOba Monoi Deep Conditioner. It provides an amazing slip and has a calming smell.
While I don't use it as much as the other two listed above, I do highly recommend it as it is one of my favorite. It contains ingredients like jojoba seed oil, carrot seed oil, and tea tree oil.
Shop for your own here.
Alaffia's Repair & Restore Creme Hair Mask
At the beginning of 2018, I was in Whole Foods doing research for a blog post that ended up being this article on vegan hair products. While searching the aisles, I came across Alaffia's Neem Turmeric Shampoo and Conditioner. Since then I've been using their "Good" bar soap line and their new hair care line, Repair & Restore. Let me tell you, the deep conditioner in that line is EVERYTHING! I'm not one to insert emojis into blog posts, but if I could, the prayer hands would go here.
It's thick, creamy and full amazing ingredients like baobab fruit extract, yam extract, coconut oil, and shea butter. It leaves your hair super hydrated. You can get yours here. 
Watch this deep conditioner in action


What are some of your favorite deep conditioners?
Sign up for the ClassyCurlies Mailing List