Hey Curlies,
Out of all of the topics to focus on in the natural hair community, I realize that styling curly hair isn't my priority. Sure, I snap a couple of pictures for my Instagram and upload some tutorials to YouTube every now and then, but hair health is my game, not styling.
It's one of the reasons I wanted to create a reoccurring post highlighting a natural hair style of the week, also known as "Classy Style of the Week." Here, you'll find some curly hair style inspiration.
Let's get on to the first style: Wash n go
So it's often I find myself struggling to pull off a wash n go considering my kinky hair texture. It shrinks up to more than half its size when wet and can tangle very easily.
I'd tried to achieve wash n go looks that mimicked other women's styles, and then I finally told myself, "You know what? I can get that same look with a little extra work."
Let me introduce to you how I "fake" the wash n go look.
Cleanse hair in 2-4 sections using Honeychild Moisture Balance Gentle Shampoo with warm water.
Apply Honey Sweet Softening Conditioner to each section and rinse after 2 minutes
Coat each section with a generous amount of Honey & Ginseng Energizing Hair Masque from root to tip. Let sit for 5-10 minutes under a plastic cap, then rinse with cool water.
Section-by-section, spray Milk & Honey Leave-In Conditioner generously and apply Knot My Honey Instant Detangler before combing from ends to root.
In total, install about 15-20 twists on wet hair using Hold it Honey Styling Gel.
Let dry overnight, untwist, separate and fluff with a pick to unleash beautiful corkscrew curls.
I know, it may seem like a simple twistout – and while it is – I want you to know the key to this "wash n go" look is styling hair while it is wet. Not damp, but wet.
When you apply products while they're wet, your hair gets a chance to fully absorb them. You'll most likely experience shrinkage, but not nearly as much as you would with a traditional wash in go.
You'll be left with a slightly stretched style full of definition.
By the way, you can use any hair products for this style, but I get great results with Honey Baby Naturals.
SIGN UP for the ClassyCurlies' mailing list to unlock your free 8-page ebook on healthy hair rinses.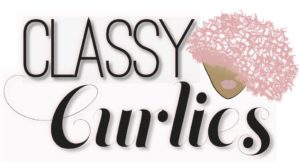 Sign up for the ClassyCurlies Mailing List