Hey, Curlies!
Each time I post photos of my healthier spin on chocolate muffins, I get requests for the recipe. Today's the day you get my blender chocolate chip muffins recipe.
I started making these muffins a few years ago for the time when I wanted something sweet but didn't need loads of sugar in my system. Oh, by the way, did I mention these muffins are flourless and also free of added sugar?
They contain a handful of healthy ingredients and taste delicious. They're perfect for the holidays when you're looking to bake something warm and tasty.
Flourless Muffins Recipe
What you need
3 ripe bananas
1 cup of dairy-free chocolate chips
1/3 cup raw honey
2 cups old fashioned oats
1 teaspoon vanilla extract
1/4 cup almond milk
1 teaspoon baking soda
Muffin cups
Pure olive oil spray
Blender
Directions
Ready for the easiest recipe of your life? Blender muffins here we come!
Pre-heat oven to 350 degrees
Sit muffin cups into the pan
Spray each cup lightly with olive oil
Throw all ingredients, with just 1/2 cup chocolate chips, into the blender
Blend until well combined
Pour mix into muffin cups and drop the remaining chocolate chips into the cups
Bake for about 15 minutes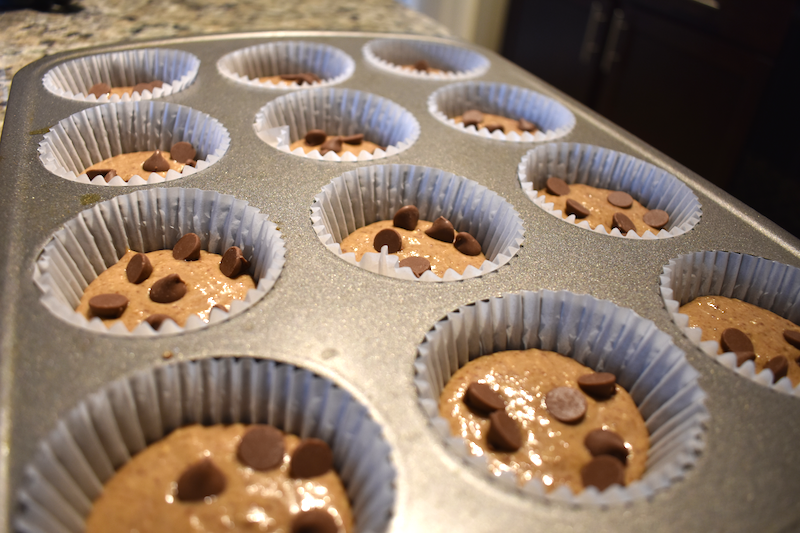 These muffins can be stored in an airtight container in the fridge for about a week. In my house, they don't last that long.
Embrace your beauty by feeding your body the good stuff. See more recipes in our Healthy Living section.