Hey Curlies,
I often go through periods where I don't realize how long or thick my hair really is until someone mentions it in conversation. This time, I noticed it in a photo.
I had created a quick natural hairstyle one morning, took a photo for my Instagram and was amazed. Wow! My hair really is thick.
Here's how to get the look:
What you need to get started:
Ponytail holder
Styler or gel
Comb
Bobby pin
Here's how it's done:
Using the comb, create a horizontal part across your head starting at your ears. The part should start at the top of one ear, and end at the other.
Section the back half away
Create a middle part in the front section to create two even, smaller sections
Use a dime-sized amount of styler on the front right section and create one, jumbo braid. The key is to braid as loosely as possible to achieve a larger braid.
Repeat the previous step on the front left section.
Add a small amount of styler to the back section and create a loose bun. Begin by starting a ponytail without pulling the hair all the way through.
Lastly, pin the ends of the front braids to the top base of the bun.
Want more styles? See last week's style or the ClassyCurlies YouTube channel.
SIGN UP for the ClassyCurlies' mailing list to unlock your free 8-page ebook on healthy hair rinses.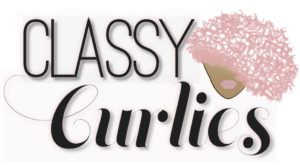 Sign up for the ClassyCurlies Mailing List