Hey Curlies,
So I have an obsession…and it's not the one I mentioned in last week's episode of Curly Conversations. It's one I've had for quite a while.
I'm completely obsessed with tea…yes, not coffee, but tea. (I hate coffee)
While I love all kinds of tea, I have a real love for herbal teas.
And it continues to grow. I don't know what it is, but tea can cure any bad mood I may be in. I can just grab a cup and feel instantly relaxed.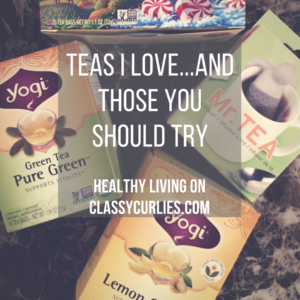 So for all of the tea lovers out there (and those I hope to bring to the dark side), here is a list of my favorite teas…and why you should try them.
Yogi Lemon Ginger: This tea combines two of my favs – lemon and ginger. They both have amazing benefits for the body separately, so together their a powerhouse. I've drank this to cure migraines, cramps, nausea and everything else in between.
Yogi Green Tea Pure Green: Green tea is an instant mood booster for me. Because it does have some caffeine, it wakes me up and I know it actually has benefits like the powerful antioxidants and nutrients it provides. Want to keep your immune system healthy, drink green tea.
Celestial Seasonings Peppermint: I started drinking peppermint tea after I learned it cures an upset stomach naturally. While I don't drink this daily, I save it for those times my stomach isn't feeling its best.

Private Selection Acai, Pomegranate & Blueberry Green Tea: I found this tea at my local Kroger and fell in love. I was a little skeptical because I'm not a fan of blueberries, but knowing they were packed with antioxidants helped me make the sale. Turns out, this has become one of my favorite teas – and the blueberry isn't too powerful (if you were wondering).
Yogi Sweet Tangerine Positive Energy: This stuff is my fav! It has saved me from many bad days. I bought this tea just because I saw "positive energy" on the box and was sold. It tastes so good and truly brightens my day.
Mr. Tea: Of course you can't drink Mr. Tea, but he becomes my best friend when I drink loose leaf teas (those that don't come in a bag). You simply pour your tea leaves into the "pants" and sit him on the edge of your cup. The tea then brews in your cup without floating around.
I continue to try new teas while I'm out and about. So if you see me with a mug in my hand, you can bet 99 percent of the time its filled with tea.
Subscribe to the ClassyCurlies newsletter