Hey Curlies,
When I first did the big chop – the act of cutting off your relaxed hair to expose your natural hair texture – in 2011, I honestly didn't think it was that scary.
I had heard horror stories of women transitioning to natural hair and absolutely hating their cut. They hated seeing themselves with short hair and most of all, they couldn't stand their hair texture.
See details of my big chop here.

The thought and process of going natural should be one to remember for good reasons. In fact, you can have an amazing experience with a little research and mental prep work.
Listen to the podcast episode of this blog post here:
Here are the tips to keep in mind as you transition to natural hair
1. Your state of mind will need to shift
Get rid of the idea in your mind that your hair texture is going to look like someone else's. I hate to break it to you, but it won't, because it will look like yours.
Social media has developed a place where it's easy to compare ourselves, and our hair, to one another. That's not the route you want to go.
You must mentally prepare yourself to be your biggest cheerleader during the process. Make a pact with yourself that you will accept your hair texture no matter what.
Learn more about accepting your natural curl pattern below:
2. Limit your heat tool usage
I learned this the hard way, so I want you to be aware. As someone who is transitioning from relaxed hair to natural hair, heat tools may be a huge part of your hair routine. You might even use the blow dryer and flat iron weekly.
To allow your new curls to grow in properly, you're going to want to limit your heat usage. You'll want to limit it to every other week to eventually no heat while your new growth comes in. Well you say, "If I can't flat iron my hair, what styles am I supposed to wear?" Good question!
3. Protective styling is key
Hiding the ends of your hair and protecting them from hash weather conditions is called protective styling. It is your friend because it helps retain length and is super convenient as you won't have to take time to style your hair daily.
You'll want to aim for one style a week – unless you choose something like crochet braids, faux locs or Senegalese twists.
Here are some examples of protective styles.
4. Deep conditioning is your best friend
Yup, get used to that bottle of conditioner and plastic shower cap because they will be your new best friends. Deep conditioning is a must during the relaxed to natural process because it helps keep your strands moisturized.
The last thing you want is for your hair to begin breaking off because you were too lazy to take care of it. Aim for weekly 30 minute sessions.
Here are my top three favorite deep conditioners. 
5. Set a limit
There should be a time limit on your journey. I allowed my natural curls to grow out for 13-14 months before I did my big chop, but you can create your own timeline.
One of the ways I made my cut a little easier on my mind was by gradually cutting away the relaxed hair. I went from shoulder-length hair to a bob within 6-7 months. By the time my big chop came around, getting rid of the rest didn't seem so drastic.
Do you need to big chop to go natural? Find out.
6. Get the job done
Once you've got your timeline set up, you'll need to figure out who will do your big chop. Will it be a stylist, barber, family member, friend, you?
I took on the job of doing my big chop myself and it was a great experience.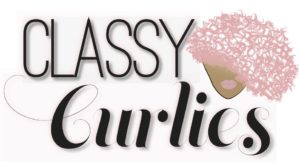 Sign up for the ClassyCurlies Mailing List